We were recently voted by the Sutton Guardian
Newspaper as Sutton's Best Playgroup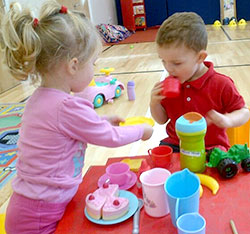 Welcome
Starting pre-school is an exciting big step for both parent/carer and child. When your child starts at Happy Days Pre-school Nursery we want him/her to be happy. Children learn best when they are happy. Please feel free to stay with your child as long as it takes for him/her to settle. Every child is welcome to bring along a special cuddly toy or blanket if needed.
Welcome to Happy Days Pre-school Nursery.

Our main aim is to provide a warm, safe and stimulating environment for children aged 2 years - 5 years where each and every child can learn through play, socialise and grow to independence.
During his/her time at our pre-school your child will develop physically, intellectually, emotionally and socially and gain confidence within themselves to prepare them for the next stage of schooling.